Building site's past as dump studied --
At the Harris Farm in L. Makefield, 49 homes are envisioned. The owners' agent calls the site safe. By Lewis Kamb, PHILADELPHIA INQUIRER -
LOWER MAKEFIELD (May 3, 1999) -- Inside the township building on Edgewood Road, two thick files hold plans for "Fieldstone," an upscale neighborhood of 49 homes that developers hope will be a sprawling farmland's future.
But just down the street and across the train tracks, rusty car parts and bits of trash poke from grassy mounds on the Harris Farm, offering clues to the planned building site's past -- and to why the plan has environmentalists worried.
"This place was a known dump site for years," said local activist Lynn Landes, sc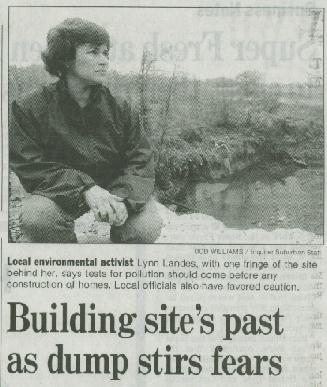 anning the farm's southeastern edge along Brock Creek. "We need to clean it up and test for pollution before anyone even thinks about building any houses here."
Though a Harris family member and an agent for the property said recently that the farm was safe for development, concerns raised by Landes and others have led state environmental officials to consider reexamining the property. Likewise, town officials are showing caution as Fieldstone works its way through the development process.
"Was this dump the GROWS landfill in Falls Township?" asked Scott Fegley, a town supervisor and chairman of the Lower Makefield Environmental Advisory Board. "Heck no. But we don't really know what was dumped there, and that's what we have to find out."
In the meantime, The Quaker Group of Voorhees, N.J., and its development plans remain before the town's Planning Commission, several steps away from the final approval needed to begin construction. The company's president, Steve Shilling, did not return telephone calls last week. On Thursday, engineers hired by the township will inspect the property, studying potential concerns posed by its past land use.
For years, farmer Joseph Harris worked the 39-acre plot's northern grounds and allowed area residents to dump waste on its southern end, according to local residents and state environmental officials. Harris died about three years ago, leaving the land to his 12 children. Other than two houses, and a barn and garage used for a son's paving business, the farm remains largely vacant. Trees and shrubbery fleck uneven patches of grass that roll east to Brock Creek, a tributary of the Delaware River.
State environmental officials investigated the farm for dumping from the mid-1980s to early 1990s and detected several pollutants, some in higher concentrations than what drinking-water limits allowed.
But officials found "no severe contamination," records show. They recommended that on-site wells continued to be monitored, but they did not call for cleaning the site.
Last month, an agent for the property and a Harris family member acknowledged in interviews that parts of the farm were used for dumping. But they insisted that it was fit for development.
"People used to dump old furniture and trash, but I don't think there were any chemicals dumped there," said Michelle Harris Monti, the daughter of one of 12 heirs to the property. "All the proper tests have been run, and the property has been cleared."
That is not exactly accurate, according to a letter that the Department of Environmental Resources sent to a Harris family member in July 1992. Tests found high levels of nitrate in a tributary running between a man-made pond and Brock Creek, and of chloroform in on-site monitoring wells. The nitrate levels were within safe drinking-water limits, but the chloroform "slightly exceeded" them, the letter said.
The department also tested "a seep emanating from the landfill into Brock Creek," according to the letter, and found concentrations of three insecticides: dieldrin, endrin and DDT. Levels for two were within drinking-water standards. There is no such standard for DDT, the letter states. Traces of lead, silver, arsenic, barium, chromium and mercury also were found in wells.
The department did not recommend cleaning the site but "recommended that groundwater sampling continue . . . for the next three years."
Those tests were never conducted, said Lynda Rebarchak, a spokeswoman for the Department of Environmental Protection, as the state agency is now known. "There has been no DEP activity or recent site visits since the time of that letter," Rebarchak said. "But we are looking into possibly inspecting the Harris property again."
Landes, Fegley and members of the Brock Creek Watershed Association said they welcomed more DEP testing, particularly of Buck Creek, which feeds into the Delaware River, from which Lower Makefield draws its water supply. An orange ooze still leaks into the creek from banks on the property. Monti said the Quaker Group was aware of the past dumping and wanted to proceed with the project nonetheless. An engineer for the company confirmed that last month, according to township records. "We're just two months away from selling the property," she said, referring to a June closing date with the Quaker Group. "If there were any hazardous materials there, don't you think they would have been dealt with long before we sold it?"
---